That is how I feel about blogging. First off, let me apologize to all my avid followers (that's you mom!). Before I set out on this journey, I had all these high hopes for documenting every second and making all these adorable, clever video blogs. In reality, travelling with a very high energy 5-year-old, in sub-Saharan Africa is a lot more time-intensive than I realized – in a good way of course (I have to say that, right?). At the current moment, I've given myself this peace and quiet by letting this happen: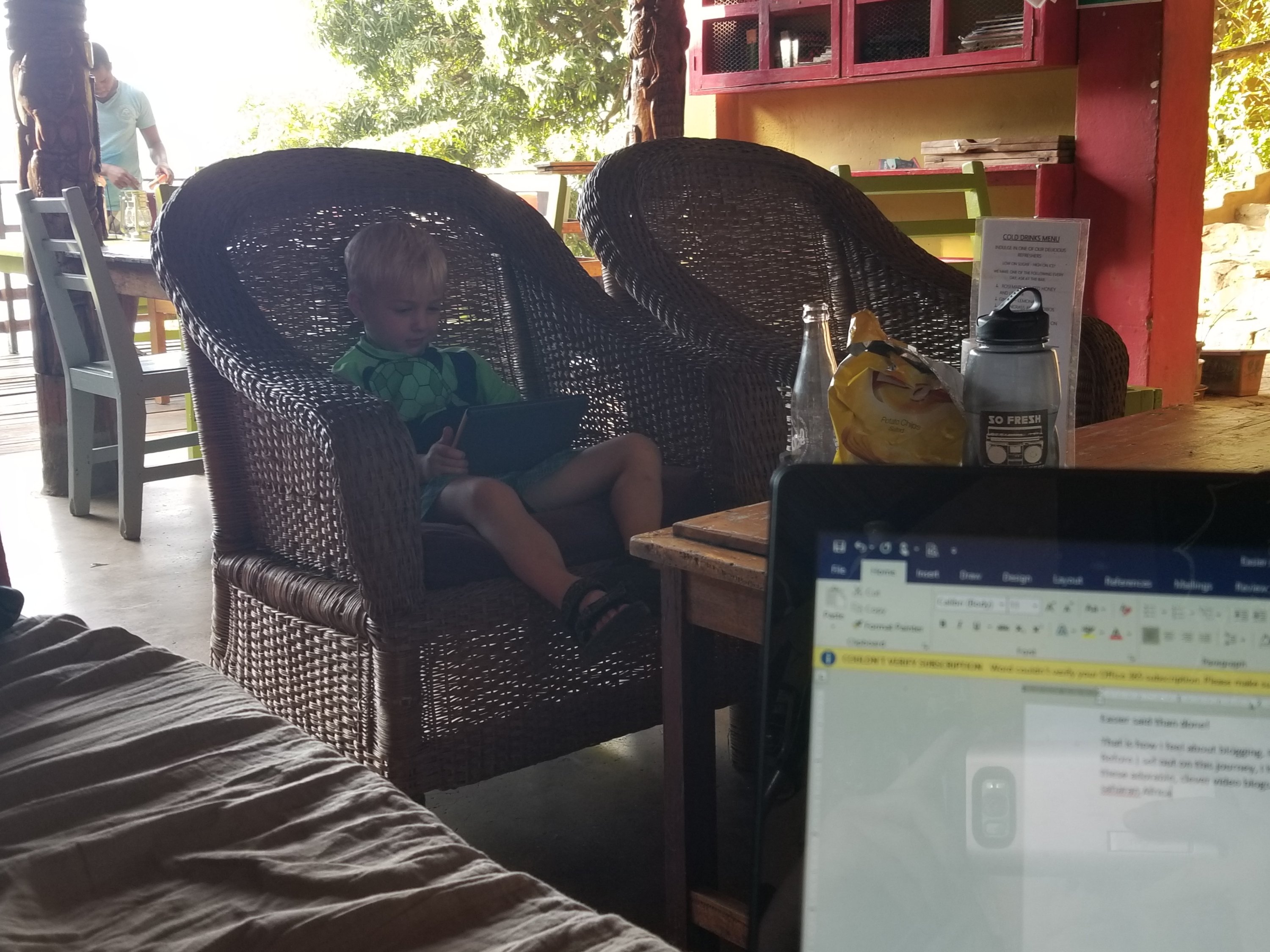 ……which isn't my go-to parenting style. So instead, you are getting this presumably long update, with a few catchy, adobe-compiled videos thrown in!
At the half-way mark of this exploratory trip, I find myself feeling anxious that we haven't made more progress. We spent the majority of the first half of our journey in Zambia visiting the village where I served in Peace Corps and seeing my Zambian family and a few other close friends that live there. Even though we didn't stumble onto any hidden locations that sparked my interest for this specific venture, the time spent connecting with the people who have kept me coming back to this continent time and again was well worth the extra time. Here is a short compilation of our time spent in the Northwestern province of Zambia:
At the tail end of our time in Zambia, we were fortunate to be given the opportunity to stay in the remote northern part of Kafue National Park at a beautiful lodge on the river. Thanks to a connection and hookup from a good friend, the original plan was to meet the chief of the area and look at potential spots along the river, in the game management area, to start our eco-lodge. However, in driving to the lodge, through the game management area, I realized one key thing – crucial to my goals. We were FAR away from people! The impetus for this venture is really to be part of a community (of people, not animals – though props to those who are tackling the huge conservation and poaching challenges!). And after spending two LONG nights in a tent, with my 5 year old, being outsiders in a community of very vocal lions, leopards, crocs and hippos, I decided I'm not cut out for life with the animals! But here's another short compilation of our stay in the park:
So that brings us to the present – Malawi – "the warm heart of Africa"! We are 3 nights into our stay here and I immediately remember why I wanted to be here. Malawi has the trifecta I've been searching for: the people, the natural beauty, and the vibe. It is hard to know where even to begin when describing the place to someone who has never been. People are so welcoming and warm and the landscape is incredible. Just driving down the road for a few hours and you see the landscape change so drastically. And best of all, things just move slower – which can also be an incredible frustration when you are an efficiency driven person! But it forces you to let go, to be in the present – to remember what it is to live. Of course, that is coming from someone who is basically on vacation right now 😉
In actuality, I've already talked to a couple lodge owners who've enlightened me about how slow the tourism sector in Malawi is currently and some of the structural challenges they are facing. Naturally this raises a few red flags for me. But these same lodge owners also reassured me that if the end goal is to be in Malawi, to be part of a community and to make something sustainable for myself and the community that the flags shouldn't be a deterrent. There are always ways to expand the venture.
Call me crazy (which people have been doing for years) but this only makes me want to try harder. Experiencing the joy of all that is Malawi, feeling content and peaceful with life has reminded me why I want to be involved in tourism at all. It's about creating a space to share this feeling with others, while also connecting with the people that make this place so special. Maybe this blog is getting a little sappy (sorry, that wasn't my original intent) but travelling the world and experiencing different cultures has really shaped who I am. Not all people travel for the same reasons and don't all get the same thing out of it. Tourism often gets a bad rap, in that it just benefits the person travelling and not the community and people being "exploited." That is sometimes the case. But it doesn't have to be that way. I believe there is a way to balance these competing paradigms, which many ecolodges and social enterprise ventures are already doing. So hopefully, down the road, there will be ways to collaborate with other lodges to start shaping (and boosting) tourism in Malawi.
In the meantime, check out my Instagram & Facebook feed (links below) for a glimpse of Malawi's raw and wonderful beauty! (Because my internet is too slow to post them here)
Next up:
We are finally getting down to some serious business next week. Oli & I will set out to explore an area of Malawi that I've been told is stunning, strategically placed & even has hot springs! Pictures to come on social media!